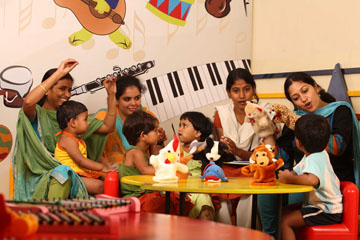 Every class, group and child is unique and has different needs at different times. At T.I.M.E. Kids pre-schools, we believe in a curriculum that matches abilities to skills that preschoolers need as a base for later learning and success at school. These can be broadly classified under eight headings:
Gross Motor Skills which require balance and coordination, and are developed through activities such as running, climbing, hopping, and playing with ball and bat.
Fine Motor Skills with which children develop the abilities to do such things as write and manipulate small objects. These are developed through activities like playing with dough, sorting, dressing, colouring and craft.
Mathematical concepts are understood through activities that include matching objects, sorting and classifying by attribute, using comparative terms, labeling numerals (0-10), recognizing nos. (1-30) and rote reciting of nos (1-100).
Science Concepts are understood through activities that include observing and identifying body parts, using the five senses, colours, classifying and categorizing animals, identifying opposites and learning about natural resources.
Language concepts are developed through activities that include listening, dramatic play, recalling story events following verbal directions, matching and labeling letters, utilizing language to form questions identifying a letter-sound relationships and recognising and writing letters and words phonetically.
Life Skills is a diverse area, where children are taught the importance of using positive manner in both words and attitudes, learning to follow directions, learning to solve problems verbally instead of using physical means and more.
Music Skills help children to acquire language and a sense of rhythm. It includes copying movements, moving physically to music, dancing and using creative movement, expressing mood through movement and identifying instruments by name.
Art and Craft are a necessary part of a child's learning curriculum. It includes drawing, painting, pasting, tearing, cutting, rolling papers, rubbing and mixing colors.